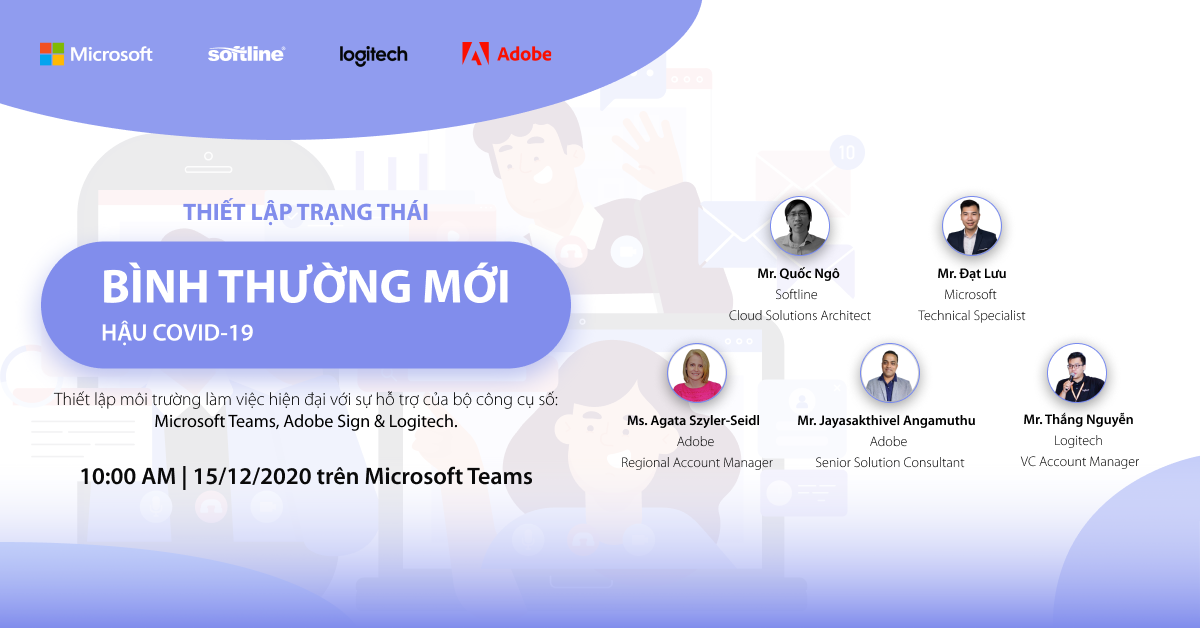 (15/12/2020) Today, the webinar "Establish the new normal after COVID-19" organized by Softline, Microsoft, Adobe and Logitech were successfully organized with the participation of almost 80 attendees. The webinar is a great opportunity for us to share with our partners about how to leverage digital tools in modern workplace.
To start the webinar, Mr. Quoc Ngo – Softline Cloud Solution Architect shared about Microsoft Teams's extensive features and how to customize automatic processes for your business on Teams. Microsoft Teams is not simply a communication tool, it's a connection hub providing all kinds of office activities virtually including meetings, signing documents and so on. As Mr. Quoc Ngo said, our needs always change so beside all available functions on Microsoft 365, Microsoft has partnered with many companies to integrate outsource applications on Teams such as Trello, Asana, Polly, Adobe and more to bring the best remote working experience to users.
More than that, users can use Power Platform including PowerApps, Power BI and Power Automate to create specific automatic processes for different work requirements. To show our appreciation to our customers, Softline are provided some of our 5 automatic processes for free to partners using our services.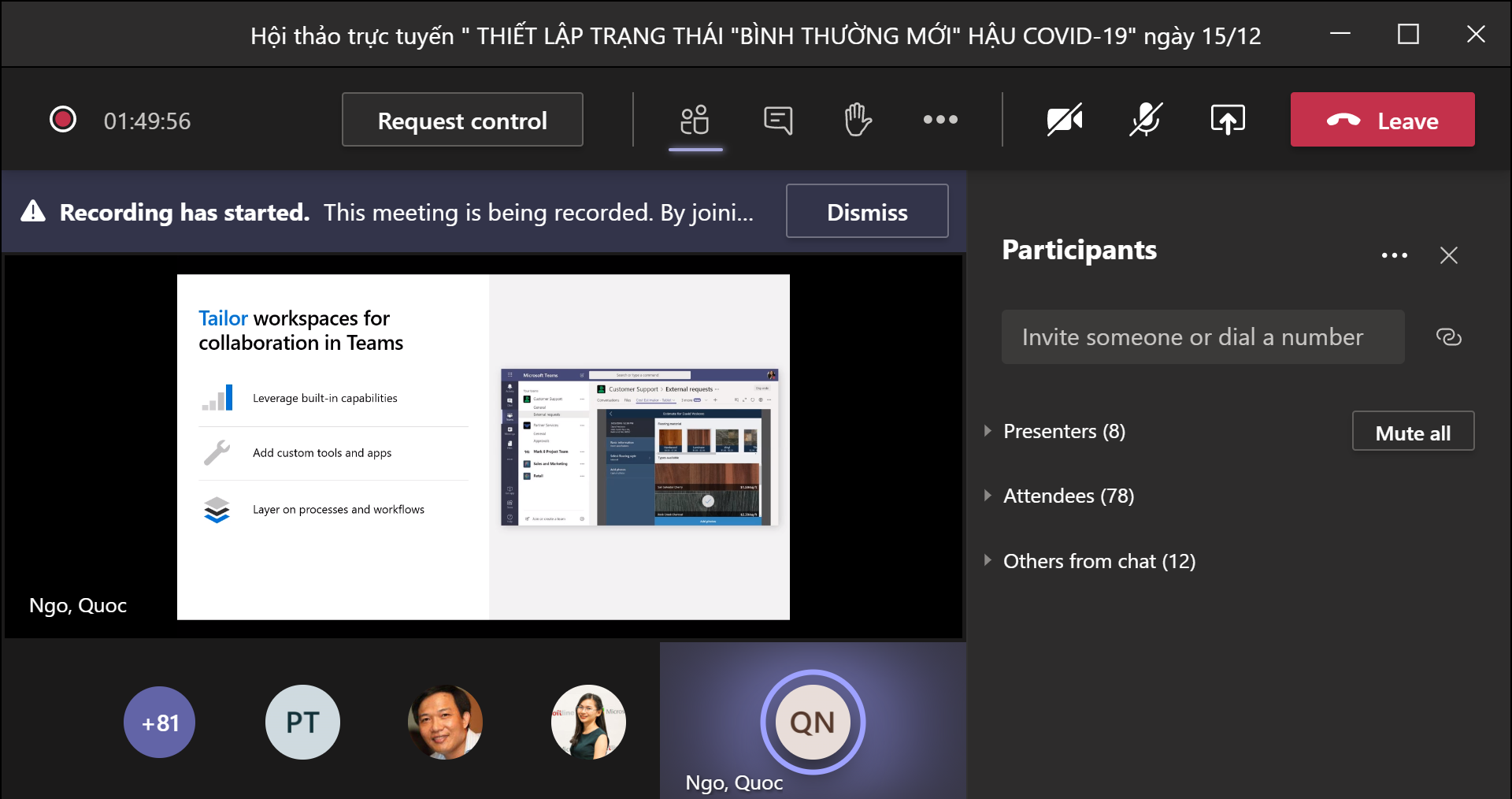 To continue the agenda, Ms. Agata Szyler-Seidl – Regional Account Manager of Adobe has shared about their collaboration with Microsoft. To minimize time spending on signing contracts, especially in the COVID-19 situation, Adobe introduces its Adobe Sign allowing users to perform automatic sign fast and safely. Legally, Adobe Sign has achieved many world certifications on security and met he requirement for digital signatures according to Vietnam's law. Mr. Jayasakthivel Angamuthu – Adobe Senior Solution Consultant also performed a demo on how to use Adobe Sign on Microsoft Teams and answered questions from our attendees.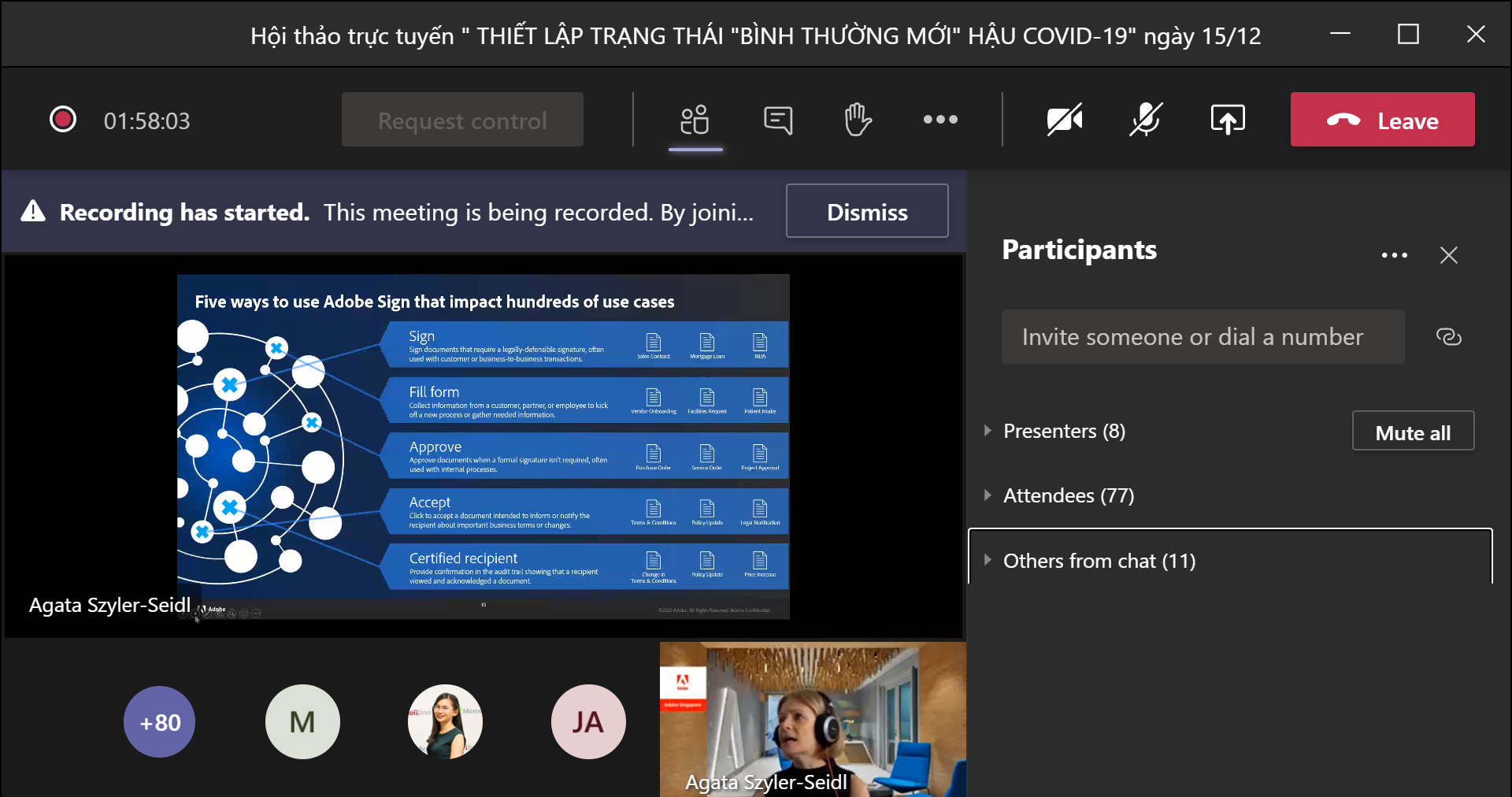 After that, Mr. Dat Luu – Microsoft Technical Specialist has showed users how to utilize MS Teams in organizing business meetings. Microsoft has continued to upgrade new functions on Teams such as Microsoft Task, extend to 49 screens on video callings and more to bring the best online conference experience to users.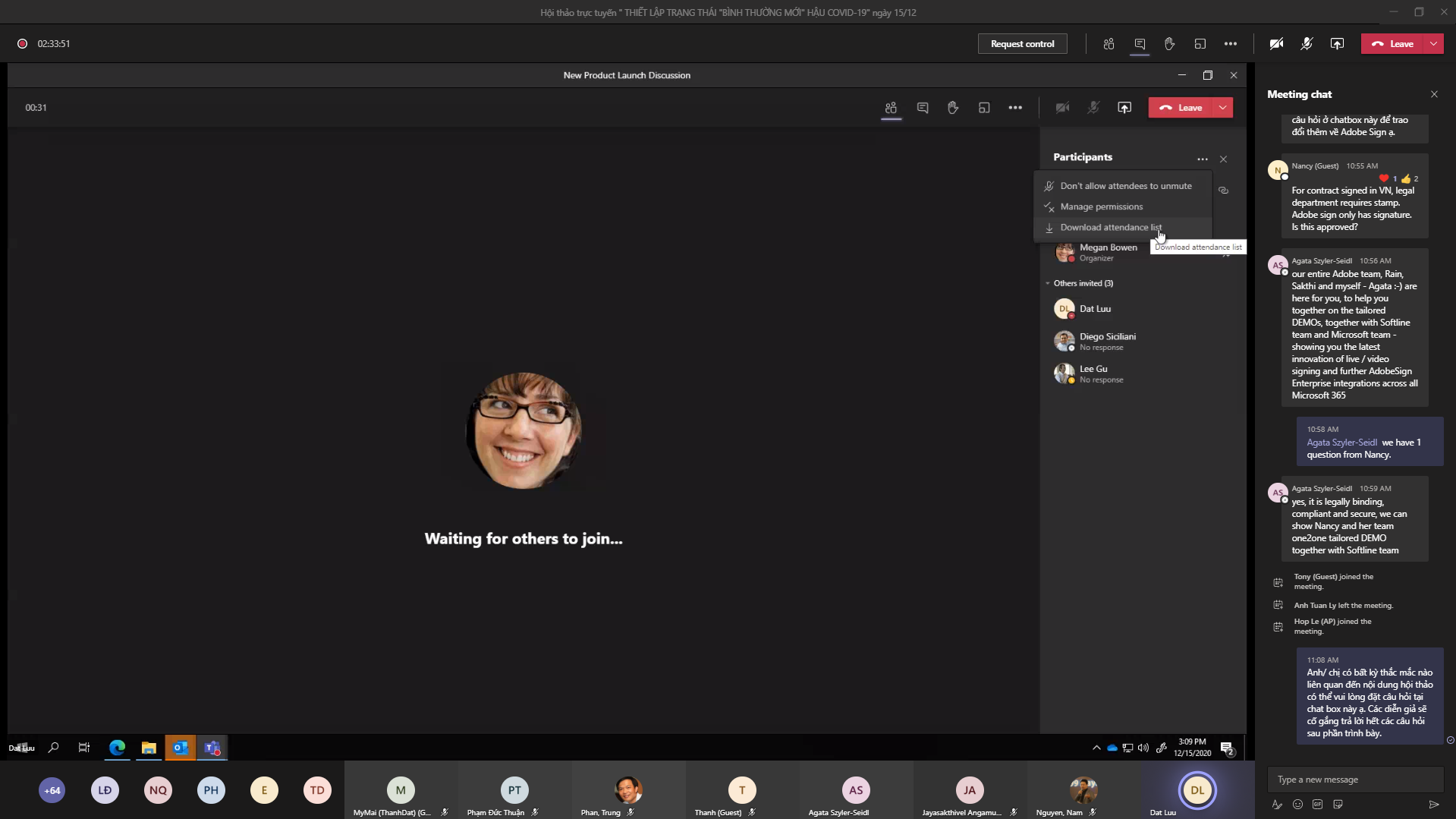 Finally, we had Mr. Thang Nguyen – VC Account Manager from Logitech come to introduce some brand-new technology models from the organization which help to organize meeting more efficient. Their products are trusted by many politicians around the APAC regions and successfully support thousands of meetings.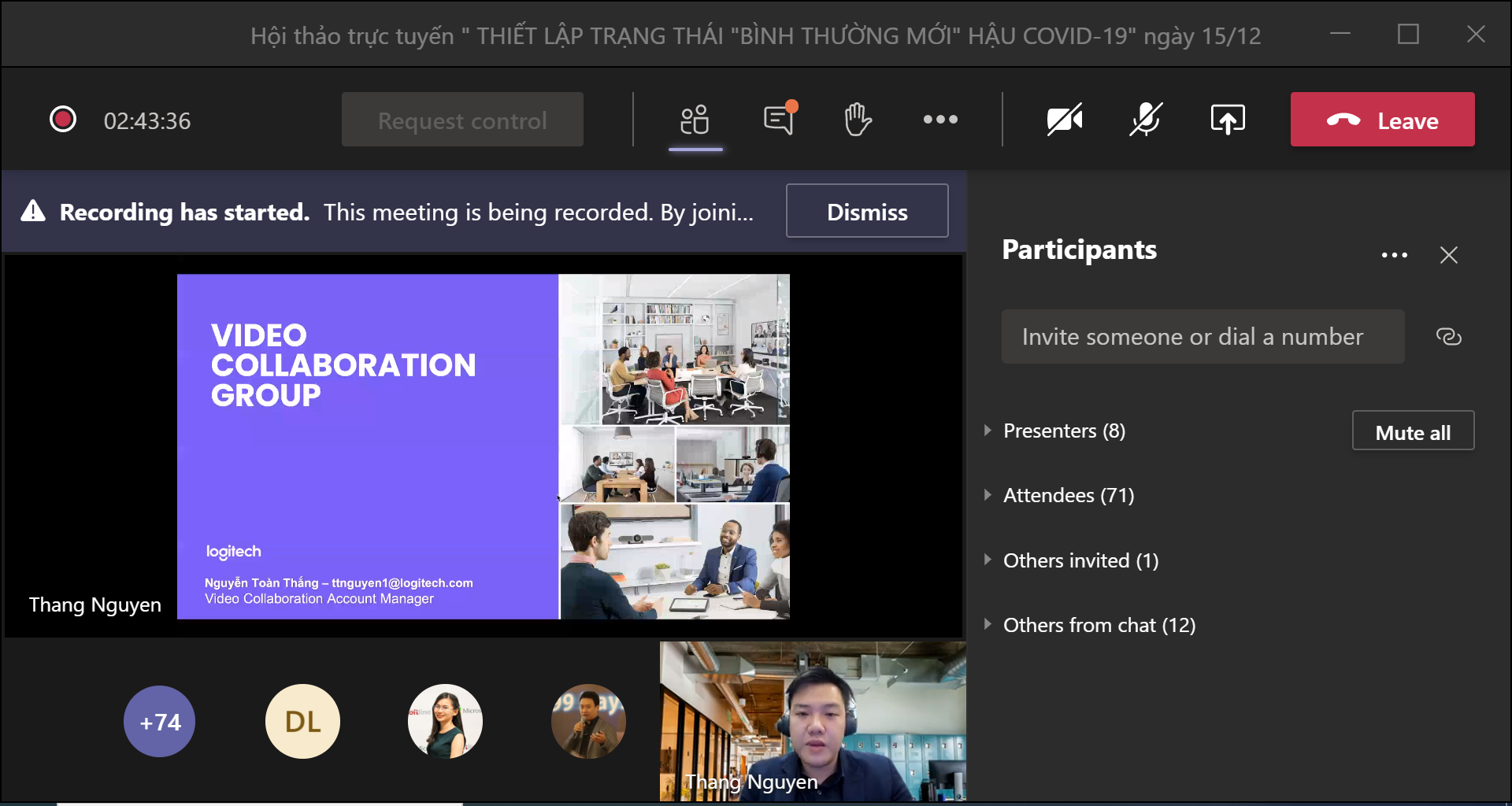 Softline together with our partners always strive our bests to bring our customers the best collaboration during virtual meetings. We ensure to make your digital transformation more excited and easier than ever!
Contact Softline to receive in-depth advice from a global team of experts.
Hotline: (+84 28) 6680 5926 / (+84 28) 6680 5397
Email: info.vn@softlinegroup.com