On September 9, 2022, the Zero Trust security solution event called "Cloudflare Zero Trust - Enhance Network & Application Security", hosted by Softline and Cloudflare at Caravelle Saigon,took place successfullywith the attendance of more than 50 leaders, directors, heads of IT departments from companiesacross a wide range of industries in HCMC.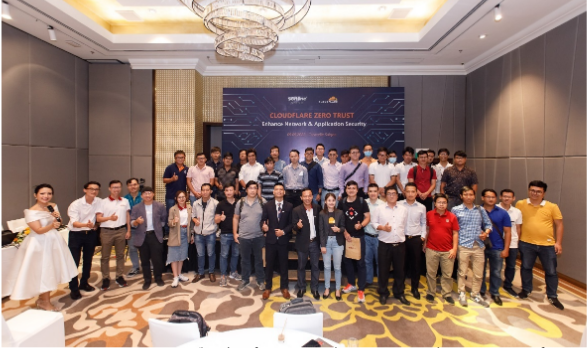 More than 50 people attended the Cloudflare Zero Trust event, which was co-hosted by Softline and Cloudflare.
Nowadays, a security solution based on the Zero Trust model is a must for all businesses, allowing them to handle network security issues and prevent becoming victims in the face of ever-increasingly sophisticated and complicated cyberattacks.
Mr. Trung Phan - Director of Ho Chi Minh Office,Softline - began by discussing the collaboration strategy between Softline and Cloudflare in providing Zero Trust solutions for local businesses.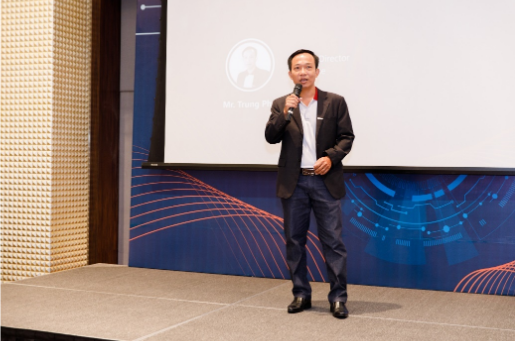 Mr. Trung Phan, the representative of Softline, gave the opening speech
Over the past three years, the strategic cooperation between Softline and Cloudflare has flourished, and the two companies have worked together to accomplish numerous successful Zero Trust projects for businesses. According to Mr. Trung Phan, Softline will continue to be Cloudflare's strategic partner in Vietnam for the provision of Zero Trust solutions.
Following the opening was a presentation from Cloudflare's representative, Ms. Tu Mai - currently working at Cloudflare with the position of Indochina Lead.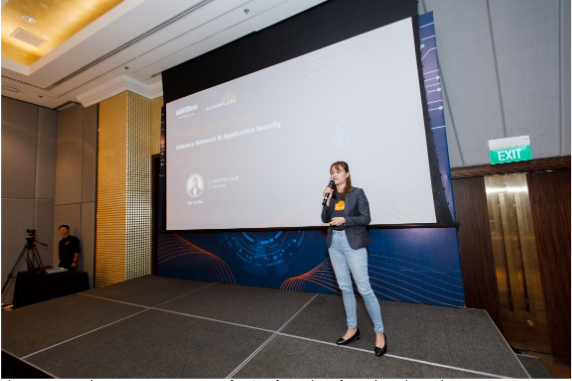 Ms. Tu Mai, a Cloudflare representative, spoke about the Cloudflare Zero Trust security solution.
Ms. Tu Mai brought to this event her in-depth knowledge of cyberattack circumstances that have occurred in the past, as well as Cloudflare's successful responses to each type of attack. Through that, businesses will learn how to apply each of Cloudflare's solutions to real-world situations.
In her presentation, Ms. Tu Mai mentioned statistics on recent cyberattacks. Specifically, attacks at the application layer show signs of a sudden increase in 2022, with more than 72% compared to the previous year.
And not only increasing in number, but cyberattacks are also becoming more and more difficult to analyze and handle. Many businesses in Vietnam are constantly attacked on the application layer with increasingly sophisticated and unpredictable methods by hackers.
To completely solve this problem, businesses need to build a Zero Trust security model through Cloudflare's infrastructure. Today's leading companies in the world such as Pepsi, Kimberly-Clark, Twitter, Salesforce, Zoom, etc. have all turned to Cloudflare's platform to be more secure against cyber attacks that will become even more complex in the future.
After Ms. Tu Mai's presentation, the representative of One Mount Group's security team from Hanoi - Mr. Hung Vu - shared about the effectiveness of the Zero Trust project implementation.
Mr. Hung shared his practical experience with Cloudflare's solution, from the beginning of his learning until the project's implementation. One Mount Group's outcomes after nearly three years of using Cloudflare's solution are assured network security and a Zero Trust model that has been successfully deployed and activated for 100% of its employees.
In the fourth part of the event, Mr. Anh Luu - Solution Architect, Softline presented how the Zero Trust model works in practice.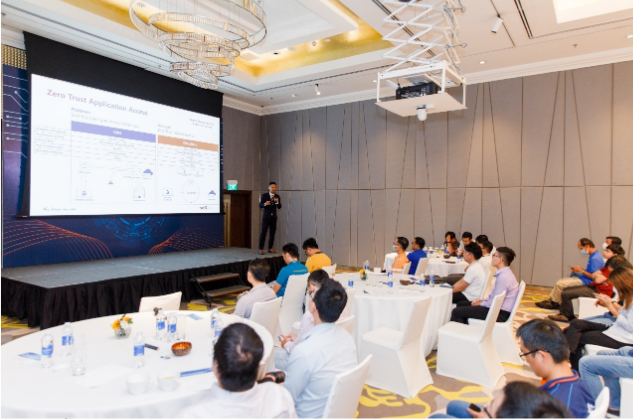 Mr. Anh Luu presented the applications of Zero Trust in the network field
Specifically, about the network segment, Mr. Anh Luu gave in-depth information regarding Cloudflare's Zero Trust Services, including:
Zero Trust Application Access – The safest way to release internal apps.
Secure Web Gateway – An easy way for users to access published applications and the company can control all of that access based on location, time, IP, and email.
Remote Browser Isolation – A Zero Trust browsing service that allows the system to operate in the cloud separate from the network and endpoints, which insulates devices from attacks.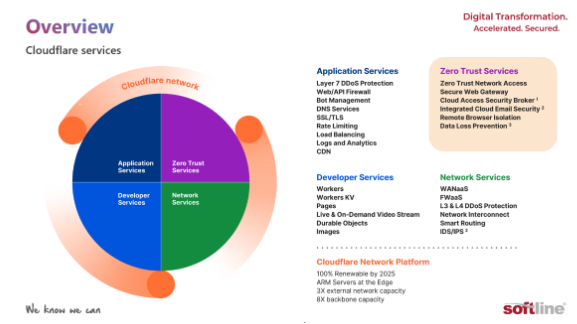 Overview of Cloudflare Zero Trust Services
The event ended well and received positive feedback from attendees through a Q&A session on Cloudflare Zero Trust solution-related topics and how to develop an upgrade roadmap for the business security system.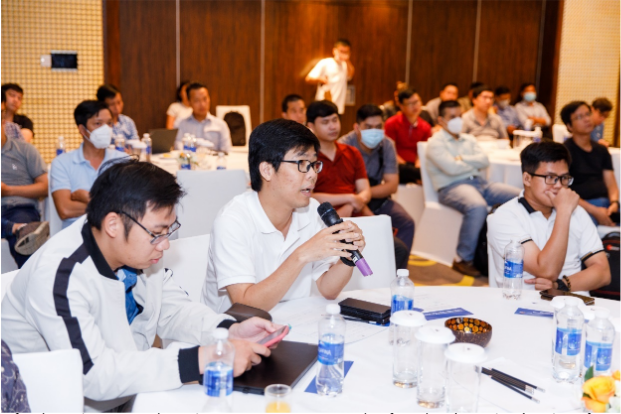 The final Q&A session about Cloudflare Zero Trust and how to upgrade security systems for businesses
Finally, Softline would like to take this opportunity to thank our customers for taking the time to come and contribute to the success of the Zero Trust event!
Watch this video to discover some of the event's highlights.
Contact Softline via email at info.vn@softline.com to receive in-depth materials about Zero Trust, Cloudflare and receive information for the next event.
Contact information: